Sophisticated fragrances.
Smart delivery.
AIRIA delivers a personalized scent experience throughout your home – created and changed with just a few clicks.
Shop AIRIA Device
We're sorry - AIRIA devices are out of stock, but coming back soon!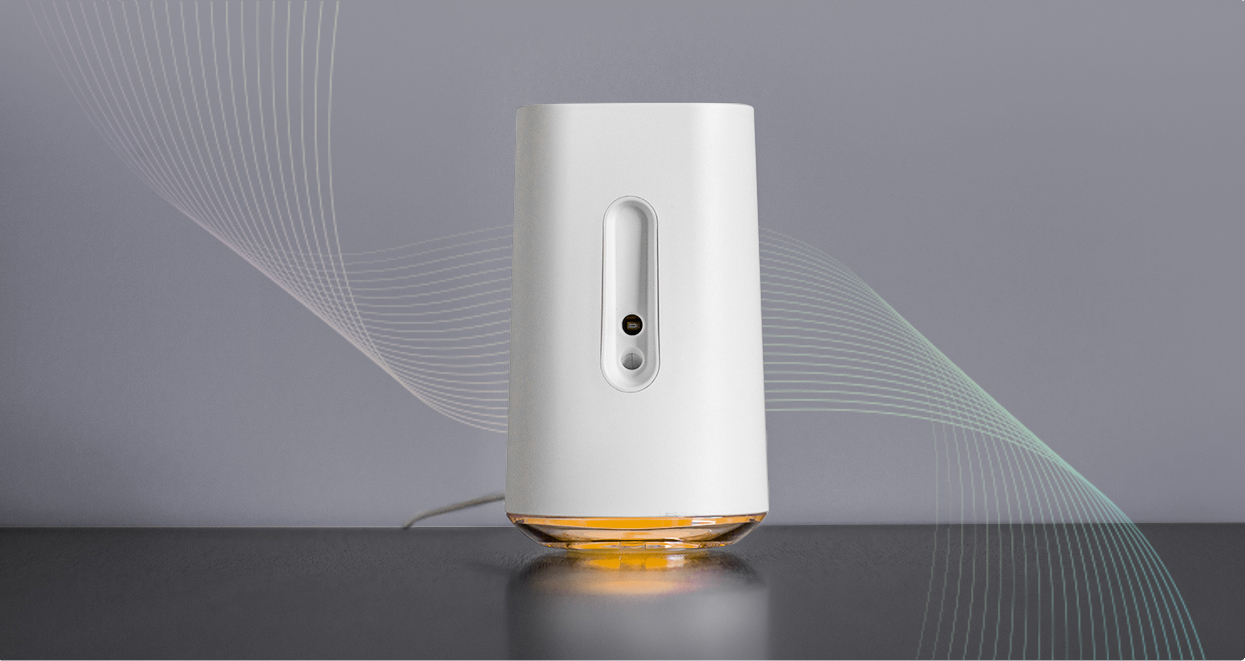 Our team is working diligently to produce new devices which will be available soon.
In the meantime, sign up for our waitlist and stay up to date on our progress and promotions!
Breakthrough Fragrance Technology
Luxurious fragrance in every room of your home.
AIRIA is not just another diffuser. Our proprietary technology enables our luxury fragrances to travel throughout your home – up to 2000 square feet.
*2000 square feet claim refers to single floor layouts
"Lighter Than Air"
Micro-Droplets
High Quality
Fragrance Oils
Precisely Controlled
Consistently Delivered
Learn More
A Truly Personalized Experience
Create the perfect ambience for your home.
Fragrance Intensity – from a "barely there" hint to a bold fragrance statement
Light Color and Brightness – set the mood for a romantic dinner or a lively party
Schedules – create schedules that fit your lifestyle with the flexibility to meet your changing needs
Simple, Intuitive Functionality
"Alexa, set AIRIA's fragrance intensity to 7."
AIRIA works right out of the box with simple, integrated buttons, but with our iOS or Android app, you can unlock even more powerful features. And because AIRIA is built with ease in mind, you can change settings with Alexa voice control.
A Scent for Every Mood
No fillers. Just fragrance.
At AIRIA, we use only the highest quality fragrance oils and no fillers. Our in-house fragrance designers develop exquisite scents that you can choose to match your day, your mood, or the season.
Shop Fragrances
Love for AIRIA
Don't just take our word for it.
I've tried many different air fresheners, and AIRIA is by far the best one. The scent isn't too overpowering, and I love the fact that I can control the length of time and scent level with the app.
Jennifer from Henderson, Nevada
The scents smell great and the device gets the job done in dispersing around a large area.
Diane from Brevard, North Carolina
Simply the best way to freshen your whole home!!! AIRIA has a whisper quiet whoosh which fills my home with a subtle scent. It's effortless and comforting.
Su from Mason, Ohio
Stay Up to Date
Only fresh news.
Be the first to find out about exclusive offers and new fragrances!
By subscribing, I agree to receive occasional emails about product sales, new launches, surveys, and special events from AIRIA. Unsubscribe at any time. For more information, see our Terms & Conditions and Privacy Policy.
Purchase Without Risk
Customer satisfaction.
Guaranteed.
60-day, money-back guarantee
Easy fragrance exchange
*Limit one per customer
Shop Now